Veselka - dried mushroom egg can be bought in bulk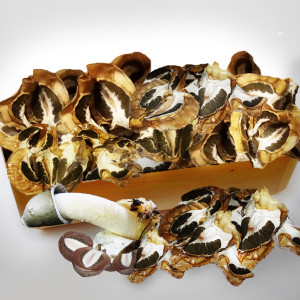 Packaging 1 kg - cost 2500 UAH
Packaging 1 kg - when buying from 10 kg - the cost of 1750 UAH

The Latin name of the fungus is Phallusimpudicus, the literary name is Veselka. In people it is called panna, smelly morel, fucking mushroom, sraptor, etc. He grows mainly in the deciduous and mixed forests of Ukraine and Belarus from June to November.
It takes two months, in the egg, and then some sort of reactive force pushes it upward for 10-15 minutes. Egg from which grows a mushroom, white, diameter from 3 to 12, see Mushroom height from 10 to 35, see.
In the XX century the mushroom of Veselka caused a sensation. Biochemists have found in it a high concentration of phytoncides, which are capable of destroying any viruses. Veselka also stimulates the production of perforins and lymphocytes by the human body, which kill cancer cells.
Due to the amazing regenerative properties, the vesicle fungus is widely used in folk medicine - it treats any stages of cancer, trophic ulcers, gastrointestinal diseases, inflammation of the kidneys, liver and pancreas, cardiovascular diseases, hypertension, after stroke conditions, joint diseases, benign tumors, brain tumors and autoimmune diseases. For treatment, the whole fungus is used, but the most useful is mucus, which is found in the egg of the fungus and which is called "ground oil". This is one of the mushrooms that you can eat raw.
Useful properties of the fungus mushroom are preserved when the eggs are properly dried. In the temperature range from 35 degrees to 45 degrees Celsius. For use in medical purposes only eggs of the fungus Phallusimpudicus are used. Raw dried mushroom is used to make medical preparations (capsules, tablets, powders), alcoholic tinctures, suppositories, creams, balms, ointments, water-based tinctures and other.
Veselka mushroom can be used:
In order to inhibit the development of cysts, benign and malignant tumors of various locations. Increases the production of human perforin, which activates lymphocytes, which destroy changes in the cells of organs, including malignant nature;
To improve the protective properties of the body, helps to recover from serious illnesses, complicated operations, radiation exposure;
It acts as an antibacterial, antiviral and anti-inflammatory agent; is used in the treatment of viral hepatitis, herpesvirus infection and papillomas;
Contains natural antihistamines, used in the treatment of allergic diseases and edematous conditions;
Helps in the treatment of hormonal disorders in men and women, positively affects male potency, is a powerful aphrodisiac;
Systematic use of the fungus can reduce cholesterol in the blood, reduce blood pressure in hypertension;
It is included in complex treatment and prophylactic programs for diseases of the cardiovascular system, including after myocardial infarction and stroke;
Has a positive effect in the treatment of diseases of the gastrointestinal tract, liver, kidneys;
Promotes healing of wounds, peptic, trophic ulcers and erosions, which is used in surgical, gynecological and dermatological practice, as well as in the treatment of ulcerative defects in the mucous membrane of the stomach and intestines.
For purchase, please contact:
Telephone: + 380 (50) 504 77 68
email: papaxo1949@gmail.com
Shake Sergey Vladimirovich