VESELKA - A UNIQUE MUSHROOM. ALL ABOUT MUSHROOM FUN
Articles about the mushroom Veselka
Mushroom Veselka common
Latin name: Phallus impudicus
Class:

Basidiomycetes - basidiomycetes Basidiomycetes.

Subclass:

Homobasidiomycetidae (Holobasidiomycetidae) - Gomobazidiomitsety, holobazidiomitsety.

Procedure:

Phallales - Veselkova, fallyusovye.

Type:

Phallus impudicus - Veselka ordinary.

Habitat:

deciduous and mixed forests.

Disputes:

ovoid, ellipsoid shape, smooth, greenish-yellow color.
Development: Developed in the soil as an ovoid structure, size 40-60 x 30-50 mm.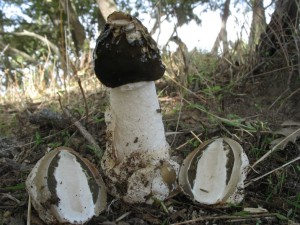 It grows in mixed and deciduous forests, and it is called the mushroom-mystery. This amazing mushroom Veselkova took a worthy position in the Guinness Book of Records because of its rapid growth. Foot fungus grows 5 mm per minute. In just 2 days fungus manages gray nondescript bud, resembling an egg turn into a puddle of foul-smelling slime.
Once healers were treated lightweight ordinary ulcers, kidney, liver, GIT, benign and malignant tumors. The doctors of the royal court treated gout from their kings with the help of a drug made from this mushroom.
About medicinal properties paddles it has been known since ancient times: it was used externally for sore joints and skin - the mushroom extract or the mushroom itself was applied to a wound or ulcer. Scientific research has confirmed the medicinal properties of Veselka. Found in it substances with therapeutic effectEg polisaharidы, have an antitumor effect, alkaloids, which are a natural analgesic, antihistamines - substances that relieve allergic reactions, as well as substances that suppress dermatomycosis, that is, skin fungal infections.
In the XX century, this fungus produced a sensation, biochemists found in it a high concentration phytoncids, which can destroy any viruses. Also veselka stimulates the production perforin и lymphocytes in humans that kill cancer cells.
Veselka, a fungus that is used in the treatment:
In folk medicine, it treats malignant and benign tumors, it heals ulcers of the gastrointestinal tract, heals the joints, the intervertebral hernia, hypertension, liver, kidney, pancreas, the fungus stimulates the immune system, treats skin diseases, inflammation of the eyes, restores genital function, is a natural stimulant.
Also eliminate mushrooms from high cholesterol, hypertension, herpes viruses, influenza, hepatitis and AIDS. External used aqueous solutions as a wound-healing, analgesic and antipruritic.
Veselka — also a fungus for the treatment of malignant tumors. Active vesicles cause increased production in the body perforin. Biochemists also discovered a mechanism in which, when a vesicle extract was added to the body, mature cytotoxic lymphocytes (CTL) in much larger quantities (from 30 to 82%) came close to atypical cells and triggered the perforin mechanism of cancer cell destruction.
Video about the mushroom mushroom
Preparations from medicinal mushrooms